QUAMP
QUAMP is a software application for the design of narrow band, small signal, and/or low noise microwave amplifiers. It affords a quick preliminary investigation of the applicability of a device for an intended use. Device characterization of scattering parameters and/or noise parameters are entered and response over a band of interest is quickly determined. This is accomplished by incorporating the following elements in the program:
classic distributed circuits S parameter design consisting of Smith Chart constant gain/noise figure, stability circles, available gain/operating gain descriptions
microstrip parameters characterization
input/output match networks design for both microstrip and lumped element realizations
circuit analysis of the resulting design
The application is written in the Apple Cocoa programming language for use in Mac OS X. This is the de facto application language for the Mac and presents the user with a popular, friendly GUI. The application is suitable for the quick characterization and/or implementation of an intended design. The major features are:
automates the complex design procedures for high frequency amplifiers
shows the relationship between gain/noise figure and stability
specifies the match networks parameters: lengths/widths or Ls/Cs
presents the complete frequency response: gain, isolation, input/output matches determines response sensitivity to device source/load impedances
affords a foundation design on which an enhanced broad band design may be based
is quick and easy to use
has printable design summary and response pages
includes an extensive help book which covers use, design examples, and background theory
The user experience is intuitive and follows a logical flow through the use of nine windows which are presented sequentially by user selection. These are:
SELECTION OF INPUT TYPE
DATA INPUT
OVERVIEW
SOURCE PLANE OR LOAD PLANE SMITH CHARTS
INPUT AND OUTPUT MATCH NETWORKS
DESIRED RESPONSE BAND
SUMMARY
PRINTABLE SUMMARY PAGE
PRINTABLE RESPONSE PAGE
The INPUT TYPE window provides selection of a DATA INPUT window suitable with the four cases defined as follows:
S parameters at center frequency only; no noise figure parameters
S parameterns at low band edge, center frequency, high band edge; no noise parameters
S parameters at center frequency only; with noise parameters
S parameters at low band edge, center frequency, high band edge; with noise parameters
The OVERVIEW window shows source and load plane Smith Charts with a range of constant gain and noise figure circles (NF for source plane only). The overview aids the design process by giving an overall perspective and allows the design to continue by the selection of source or load plane design.
The SOURCE or LOAD PLANE window (whichever is chosen) allows for the input of a desired gain and/or noise figure. Source plane design is for an available gain and noise figure if desired. Load plane design is for an operating gain. The appropriate constant circles are drawn on the Smith Chart and the user selects a reflection coefficient value on the circle(s).
Here's a typical DATA INPUT window: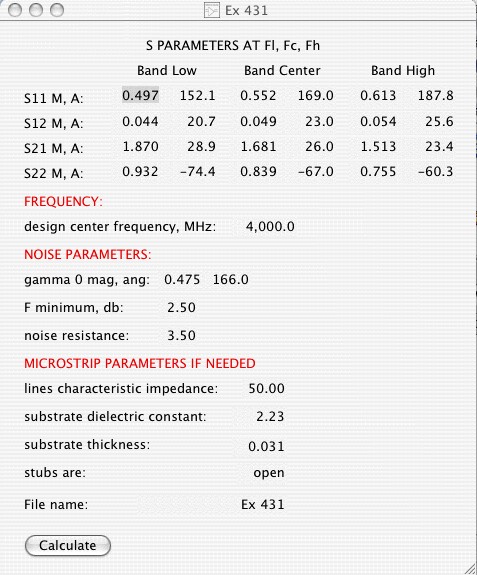 Here's a SOURCE PLANE window: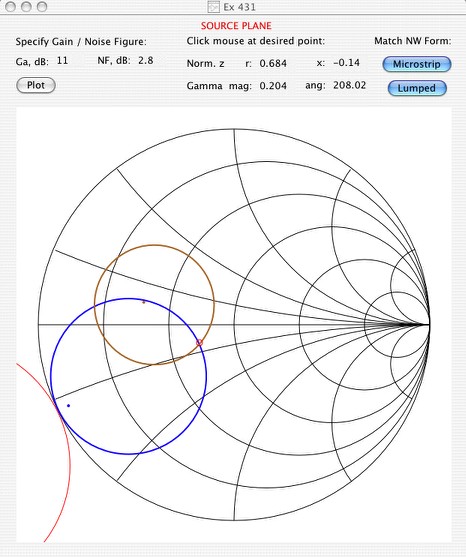 Here's the SUMMARY window: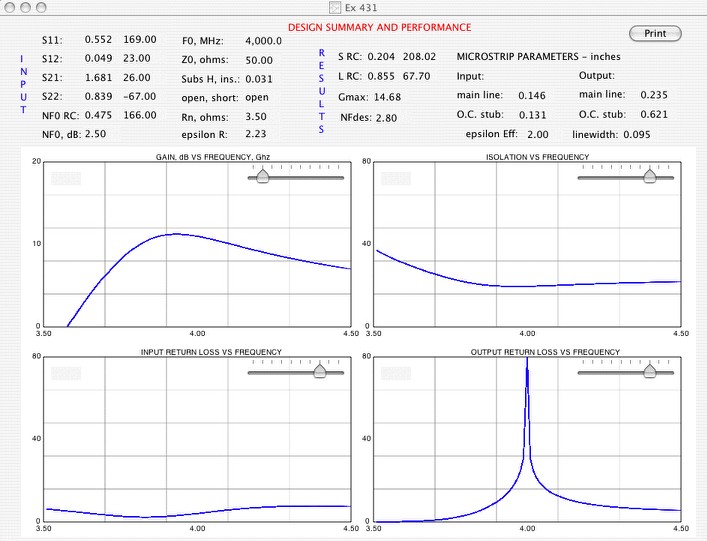 IF INTERESTED IN THE PURCHASE OF THIS SOFTWARE FOR THE ONE TIME PRICE OF USD $50.00, PLEASE EMAIL THE AUTHOR WITH YOUR ORDER OR QUESTIONS AT:
mstaloff@verizon.net